Glenwood Hot Springs-Proves Good Medicine for Spine-Injured Kayaker
After a devastating back injury, Carbondale kayaker Nate White is walking again, in part because of therapy he did at the Glenwood Hot Springs Pool.
GLENWOOD SPRINGS, Colo., July 7, 2017 (Newswire.com) – ​Late in the day on June 25, 2016, then-32-year old Carbondale, Colorado resident, teacher, and athlete Nate White was kayaking with his buddies in Crested Butte. It was the last pass on a river he'd navigated several times before. For White it would be a routine run — until it wasn't.
An accomplished kayaker with extensive experience on Class IV and Class V whitewater, by White's standards the waterfall he was about to drop from wasn't particularly difficult or dangerous. He paddled toward the falls and watched as the nose of his kayak plunged over the edge into the frothy water below, something he'd done countless times. Within moments though, White knew something went catastrophically wrong. He'd hit a submerged rock and couldn't move his legs.
White was evacuated by helicopter to Swedish Medical Center in Denver, where physicians determined he had an injury known as a burst fracture in his lower back, specifically to his second lumbar vertebrae. The lumbar nerves of which there are five pairs control leg muscle function. Soon after his arrival at Swedish, White underwent the first of two surgeries. In order to stabilize his back, doctors fused his spine with titanium rods from his T12, the lowest of the thoracic nerves, through the fourth lumbar vertebrae. A week later, doctors removed one of White's ribs for a lumbar spinal surgery to join the vertebrae above and below his injury.
"The Glenwood Hot Springs lifeguards have been amazing. They are always willing to offer a helping hand."
After 10 days at Swedish, White was transferred to Craig Hospital in Denver, the world-renowned facility that specializes in neuro-rehabilitation of patients with spinal cord injuries as well as traumatic brain injuries. Over the course of a two-month stay, White's primary job was learning, or rather, relearning how to do just about everything he once took for granted. Things like how to get dressed, maneuver in and out of a bed or a chair, and navigate using a wheelchair, his new mode of transportation. A typical day for White at Craig Hospital included a slew of therapies: physical, occupational, recreational, and pool therapy, all designed to maximize his neurological recovery. Rehab was rigorous, exhausting, and the learning curve was often steep.
On top of bodily healing, White had to mentally confront his altered future. "The scariest part was the uncertainty," he said. "I was pretty sure I was going to spend the rest of my life in a wheelchair," a reality hard to come to grips with for the once competitive mountain biker, kayaker, and ski coach. White was lucky though, something he readily admits. "When I was at Craig Hospital, I felt like one of the most fortunate people there. A lot of the people around me had way worse injuries, yet they stayed hopeful and positive. That kind of attitude rubs off on you."
After returning to Carbondale, at his father's suggestion, White also started frequenting the Glenwood Hot Springs Pool. With its warm 93°F mineral water, the huge hot springs pool was the ideal place to build strength and practice regular physical therapy. "It's great to be able to move around in that water. The heat is good for stretching and the minerals aid in muscle health. Our bodies were made to move. Even if a part is paralyzed, it's important to exercise for circulation, digestion, osteo-health, and neurological function," said White. His self-designed physical therapy entailed holding onto the edge at the deep end of the pool where his body was nearly weightless. Gradually, he was able to tread water and swim laps. Over time, White was able to incrementally work his way from the 12-ft. deep end to the 3-ft. shallow end of the pool allowing his legs to hold more and more of his body weight and simulate the motion of walking. White credits the pool's guard staff with helping him with everything from getting his wheelchair to cheering him on. "The Glenwood Hot Springs lifeguards have been amazing. They are always willing to offer a helping hand. I've been to a lot of pools and that's not the case everywhere."
In addition to his regular workouts at the Hot Springs Pool, White also works on his mobility with Bridging Bionics Foundation, a non-profit based in Basalt. Through the use of a battery-operated robotic exoskeleton that utilizes bionic technology, White is able to stand and walk — an experience he once thought impossible.
But White was just getting started on breaking through barriers. Once home in the Roaring Fork Valley, it wasn't long before he was back at work teaching English lit to students at the Colorado Rocky Mountain School, a private high school in Carbondale. The school went above and beyond to help out their colleague as well, providing an adaptive living and working environment for White. "One thing they told me early on in rehab was the number one factor for success in overcoming an injury like mine was having a support network. I have that and I attribute my success to those around me," he said.
That communal spirit may explain why giving back is so important to White. "People were helping me and doing so many things for me. I needed to get back to work; to have a purpose, to serve others," he said. In addition to inspiring kids to love the Classics, White is also uniquely qualified to mentor a student who is recovering from his own spinal cord injury.
It's been a year since White broke his back kayaking. In that time, he's transitioned from using a wheelchair to crutches to walking with a cane. Since it's summer, White has a few school-free months off. What's he doing? Kayaking, of course! After an accident like White's, most people would be too shaken or scared to "get back in the water." Not White, who recently returned from a multi-day camping and kayaking trip in Idaho. "Kayaking is a sport I can do without any adaptive equipment. It's hard to believe, but in the kayak on the river, I can forget about my injury."
And, that's just how Nate White rolls; not just in a kayak, but in life.
Life in the Lap Lanes: Glenwood Hot Springs Patron, 98, Keeps on Swimming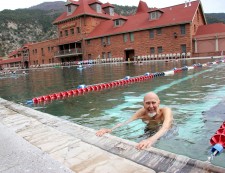 Carbondale resident and Glenwood Hot Springs Pool regular proves age is no reason to stop doing what you love.
GLENWOOD SPRINGS, CO , April 14, 2017 (Newswire.com) – ​​​For more than 45 years since he moved to the Roaring Fork Valley, John D. Lawyer has been a regular at the Glenwood Hot Springs Pool, logging hundreds of miles in the pool's lap lanes over the decades. These days, closing in on 100 years young, Lawyer doesn't make it to the pool every day, but he still swims twice per week. "It's only because he no longer drives that he doesn't go every day," said his daughter Illène Pevec.
Born October 18, 1918, Lawyer grew up in Evanston, Illinois within walking distance of Northwestern University. In fact, it was at the university that Lawyer first discovered his passion for the sport of swimming, a love affair that has lasted a lifetime. He wasn't a student though; he was just a kid. "As a 5 or 6 year old," John recalls, "I signed up for swimming lessons. As it turned out the man teaching the lessons was Tom Robinson, the Northwestern swim coach. Tom was an excellent coach and instructor. He taught me how to swim and I've been, well, swimming ever since."
John brings up Tom Robinson frequently during the conversation, a man who clearly had a profound impact on his life. "My father's love of swimming speaks to how having a wonderful mentor can shape a life and have an impact forever," said Pevec.
I like to swim laps, not sit around.
Pevec explained that her parents started coming to the Aspen area in the 1950s. John and his family instantly fell in love with the area and made a point to visit twice a year, every year, once in the winter for the skiing and once in the summer for the concerts. Unable to resist the call of the mountains any longer, John officially transplanted the family to the Roaring Fork Valley in the 1970s.
After the move, Lawyer worked as – you guessed it – an attorney. He later became Carbondale's first municipal judge. As if that wasn't enough to keep him busy, he taught classes in astronomy at Colorado Mountain College, another passion he picked up while living in close proximity to the university.
With the help of his family who transport him from Carbondale to Glenwood Springs, Lawyer is able to swim at the Hot Springs on regular basis. Since having a bout with shoulder bursitis, he prefers the sidestroke. When asked if he likes to soak in the Therapy Pool, he waves a hand and laughs, "I like to swim laps, not sit around." A clue to his longevity perhaps? Even when he was recovering from knee replacement surgery in his 80s, Lawyer didn't sit idly by. He consistently practiced his physical therapy exercises in the thermal waters, which according to his daughter helped him bounce back.
Lawyer can't speak highly enough of the lifeguards and staffers at Glenwood Hot Springs, "They all know me by name and I feel very safe, knowing they're watching out for me. I get the feeling they keep a special eye on me, you know because of my age," he joked. "It's comforting to me that he feels looked after and welcome at the Pool," added Pevec. As a thank you for being a loyal pool-goer and overall inspiration, Glenwood Hot Springs gave Lawyer an annual pool pass. "It was such an unexpected surprise," said Pevec.
As for some sage counsel, Lawyer's advice is ageless, "Whatever your passion, you have to keep at it, stay motivated and never give up on anything you like doing." Words of wisdom indeed.
About Glenwood Hot Springs
Glenwood Hot Springs is a historic Colorado landmark resort located along I-70 at Glenwood Springs, approximately 165 miles west of Denver and 90 miles east of Grand Junction.